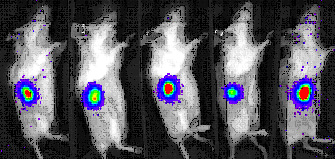 Mammalian Expression
Mammalian cell lines offer several advantages for expression of heterologous proteins. Since transcription, translation, and post-translational modification processes are conserved among higher eukaryotes, eukaryotic proteins produced in mammalian cells will be functional and well suited for a variety of structure-function assays and analysis of the physiological effects of the protein on cell function. These services include transfection of vector DNA into mammalian cells for stable or transient expression of gene products. A variety of transfection methods and assay systems are available.
Isolation of gene of interest;
Generation of recombinant construct;
Verification of recombinant construct by restriction mapping and sequence analysis;
Preparation of plasmid construct DNA;
Introduce plasmid DNA into mamalian cells;
Selection of over-expressing cells;
Small scale expression and purification study assessed by SDS-PAGE and Western blot;
Estimation of protein yield;
Developing of stable cell line and expression of gene of interest.